| | |
| --- | --- |
| kirppu | 04-14-2005 11:00 AM |
---
Quote:
Originally posted by Jud
Seems she does two videos with the same director in a row - like with UP!/Ka-Ching.

Was not he the director of PF2 also?
Yeah Antti Jokinen directed Up! and Ka-Ching videos.
Marcus Raboy directed PF2.
---
I'm holding out for a very fun swing/rockabillie vibe with Shania wearing a 40's-50's type hair and clothing. I can't wait to see this video I love the song.:)
---
A while back on one of our video ideas threads for the IANQ video I stated that I'd love to see Shania doing an old 20's-30's cabaret scene with a swing/rockabillie feel with couples around her swing dancing.
Shania looking like one of those Vargas girls...parts of her hair up in large curls vibrate red lips, beautiful made-up eyes ...wearing the stylish fashion of that era...behind her couples are swinging (dancing) to her music.
Shania sings into one of those old fashioned large round microphones complete smoke..Shania also does a little dancing but stays close to the mic.
Here are some ideas of how I see Shania..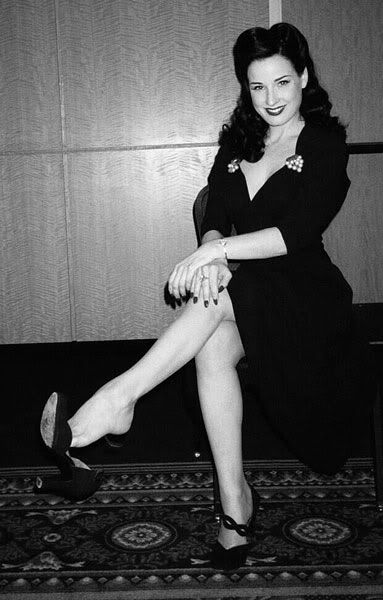 | | |
| --- | --- |
| shaniawarrior | 04-14-2005 04:57 PM |
---
That black & white picture reminds me of how Shania looked in "Dance With The One That Brought You" way back in 1993. I liked that video...it definitely had a country touch to it with all the dancin'. :) It'd be interesting to see an updated more fun version.
A HYPER Shania fan,
Desiree
| | |
| --- | --- |
| ojibiwanqueenst | 04-14-2005 05:23 PM |
---
I imagine Shania looking like this:
Can I get a "HOWDEEEEEEEE!!!!" :p
Certainly can not wait for this video....wahoo!! :BL
| | |
| --- | --- |
| cbspock | 04-14-2005 06:19 PM |
---
Quote:
Originally posted by ojibiwanqueenst
I imagine Shania looking like this:





Can I get a "HOWDEEEEEEEE!!!!" :p

Certainly can not wait for this video....wahoo!! :BL
:rolleyes: :rolleyes:
OH PLEASE GOD NO!!!!!!!!!!!!!!!!!!!!!
-Chris
| | |
| --- | --- |
| Cheryl | 04-14-2005 07:25 PM |
---
I agree with your comment, Steve! Shania hasn't lost her die-hard fans! I'm like you, I'll like whatever she does because I like all kinds of music, but I think some of her casual fans that just like country might have abanded her after the "WIM" CD because she went alittle more pop with the "COO" CD! I can't wait to see her new video for "IANQ"! The song has that old time country sound to it! I really hope it does well!!:)
| | |
| --- | --- |
| cbspock | 04-14-2005 11:47 PM |
---
SHANIA DOWN IN MEXICO
TOBY KEITH belts out that 'What happens down in Mexico, stays in Mexico', but in SHANIA's case everything that went down in Mexico we're here to tell you. Recently Shania was in Tijuana, Mexico to shoot the upcoming video for 'Ain't No Quitter.' The video was shot over two days and only one with Shania. Shania's inspiration for the clip came from Urban Cowboy and the director took her idea and vamped it up for 2005. The director also mixed up the dances so it wasn't all country and two steppin'. The best part is that it all takes place in the setting of a country bar. Now as you can imagine there aren't many country bars in Mexico so the director converted a steak house restaurant into the bar you will see in the video. He even brought in the bar, the dancers and all of the neon from Los Angeles. We can't wait to see it!
http://www.cmtcanada.com/cmt_centra.../index.asp#8460
---
If it was updated to 2005, I hope it will be released to Europe to in one way or other.
---
urban cowboy the movie?maybe we will see shania on a mechanical bull.
---
WOW!!!!!!! This is sounding better all the time...............so EXCITED!!!!:JP
| | |
| --- | --- |
| cbspock | 04-17-2005 11:15 PM |
---
| | |
| --- | --- |
| corran | 04-17-2005 11:34 PM |
---
| | |
| --- | --- |
| Steve F | 04-18-2005 09:23 AM |
---
| | |
| --- | --- |
| tides24 | 04-20-2005 03:27 PM |
---
All Access.com Country News Headline of the Day:

HEADLINE OF THE DAY for Wednesday, April 20, 2005

SHANIA TWAIN RELEASES NEW SINGLE
The determined young singer from Timmins, Ontario, Canada that fought for control of her videos, struggled to get past a weak debut album and unsuccessful debut singles, emerging with a sophomore album that ranks as one of the biggest female albums in history on her way to international superstardom, has released a new single from her greatest hits album the title of which seems all too fitting, "I Ain't No Quitter." It's at radio today from SHANIA TWAIN.


Looks like the release date has been bumped up. :)
All times are GMT -5. The time now is

12:18 PM

.
Powered by: vBulletin Version 3.0.8
Copyright ©2000 - 2019, Jelsoft Enterprises Ltd.